Nothing beats the blank canvas that is a new home. ANYTHING is possible! This is the perfect chance to design your dream home with comfort and well-being in mind. A warm and cosy home?  Yes, please!
Slowly but steadily, New Zealand is catching up to the idea that a warm and dry home is not a luxury. Getting the insulation of your new home right the first time around should be high on the priority list. You won't be able to see it (unless of course, you talk about the power bills), but you'll definitely FEEL it.
The New Zealand Building Code outlines some minimum requirements for the insulation of a new house. But by world standards, these are still quite low-performance targets for residential thermal insulation. Most of the time, we're talking about a difference of a few hundred dollars as opposed to 'thousands' between a house that is compliant and one that scores top marks for comfort and energy efficiency.
With a wide range of world-class insulation products available, there is bound to be one that suits your requirements and budget. So let's chat about how we can nail the insulation for your brand new spanking house.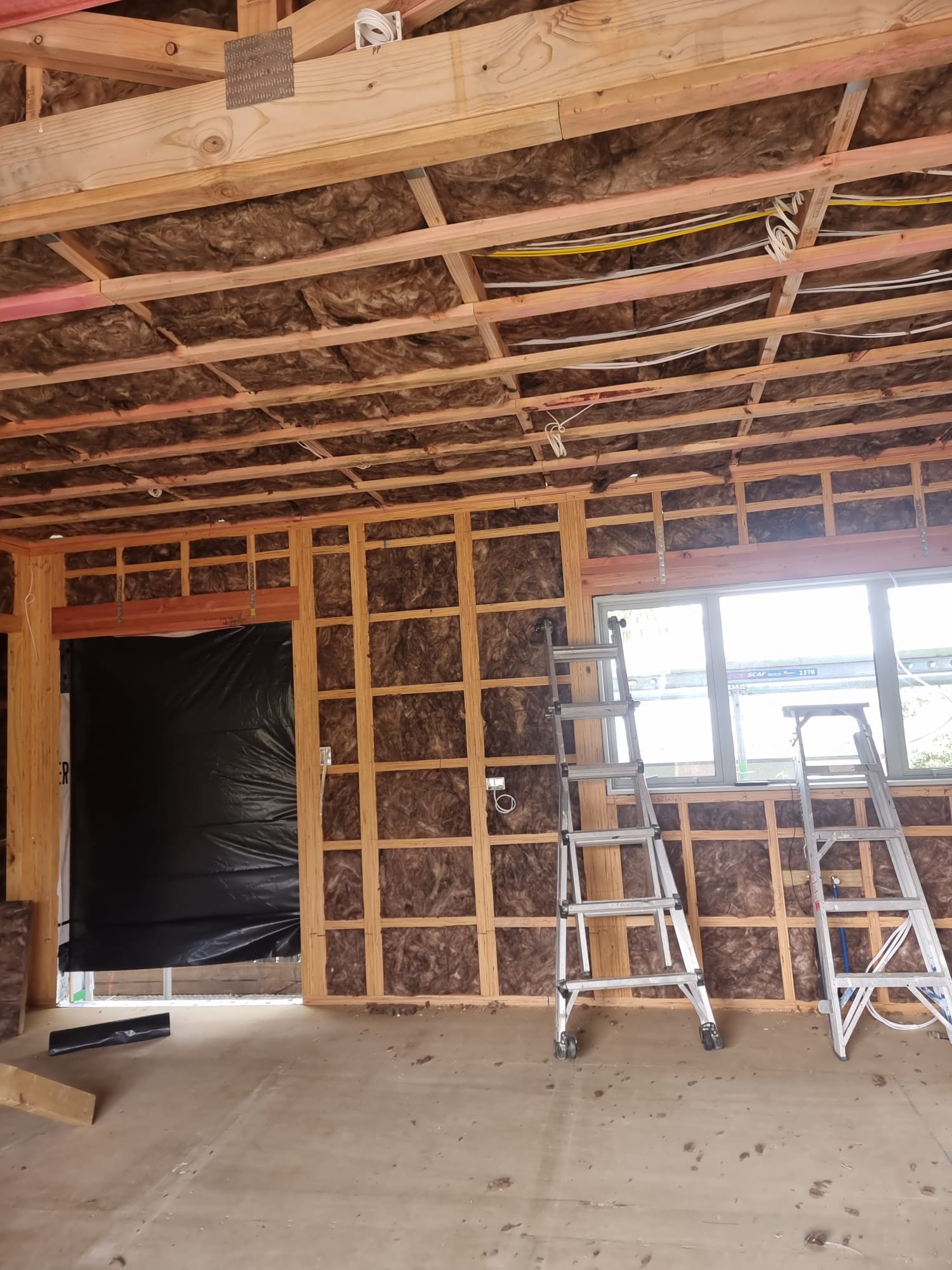 NEW BUILD INSULATION WITH TOTAL HOUSE
Are you building a house? Call Total House to do entire house insulation.
The team members at Total House are committed to giving you a warmer, drier and more energy-efficient house, so high-quality new build insulation is just part of the range of services we offer.
If you are building a house, apartments or terrace houses in Auckland or Wellington, have a chat with our teams about new build insulation.
Insulation product suppliers
Correctly installed insulation enables you to potentially save up to $400 per year by using 50% less energy to heat your home. All our product brands are chosen for their quality and are fire resistant, moisture resistant, reduce allergies and come with a 50-year manufacturer's warranty. Total House installs home insulation from a number of leading insulation suppliers including:
High-quality glasswool underfloor and ceiling insulation that comes in a variety of R-values. Softer fibres reduce irritation when handling and fine fibres ensure equal distribution for better coverage.
New Zealand made polyester insulation including fibres made from recycled plastic bottles. Mammoth insulation is made from the same products as pillows and duvets. Ceiling blankets cover the entire area including joints.
Glasswool insulation made from recycled glass bottles and natural products including bio-based product bonding with no artificial dyes or added chemicals.
Made in New Zealand partly from recycled plastic, Greenstuf is suitable for asthma sufferers and has been accepted as a suitable product by Asthma New Zealand.